Daido Katana
Kk0518
SOLD
A mumei katana attributed to Mutsu no Kami Daido. Hawatare: 2 shaku 2 sun 9 bu (69.39 cm or 27.32"). Motohaba: 3.126 cm. Sakihaba: 2.685 cm, Kasane: 4.69 mm. Shinogizukure, slight sakizori, iroi mune, o-kissaki. Nie deki notare ko-midare, , kinsuji, nado. hakikaki komaru boshi with hakikaki and a long kaeri Mokume hada packed with ha nie, shiraki, nado. Fresh polish, old shirasaya copper habaki. NBTHK kanteisho. Rated with a double circle in Nihonto Meikan, rated Josaku in Nihon Toko Jiten - Shinto-Hen, and valued at 3,500,000 yen in Toko Taikan by Tokuno. NBTHK Hozon.
Accompanying koshirae, shakudo nanako fuchi-kashira of plank bridge, stream and water lilies. signed, Left side: Geishu junin Takekiyo (unknown kanji - perhaps a combination of two kanji, because he ran out of soace) tsugu kore (a resident of Geishu [modern Aki province] I like this) Right side: Bushu junin saku Kashira ari kore, (While in Bushu I made this kashira). Ref. Hayne s Nihon Toso Kinko Dai Jiten H 09385.0. The menuki are large well detailed shakudo and gold plants. The tsuba is a large Goami school shakudo of waves in keibori, and a sukashi ginger root, 8.39 cm x 6,826 cm 4,71 mm at the round mimi the web is 3 mm. I associate these dimensions with early Momoyama. The saya is an orange red associated with the southern provinces, perhaps Choshu.
Kanemichi was the founder of the Mishina school, which had its roots in Sue Seki of Mino. There are two juyo swords dated Temmon 16 (1547) and Eiroku 4 (1562). His four sons, Iga no Kami Kinmichi, Rai Kinmichi, Tamba no Kami Yoshimichi, Etchu no Kami Masatoshi moved to Kyoto. In Tensho 2 (1574) Kanemichi received the title, Mutsu no Kami. In Eiroku 12, (1569) he was requested to make a sword for the emperor, Ogimachi and in appreciation, was granted the use of the character Dai or O, and started signing O-Kanemichi. Later he dropped the Kane kanji, and became Omichi, or Daido.
He worked in the Mino tradition, and emulated the works of Shizu Saburo Kaneuji. He was the personal sword smith to Oda Nobunaga, one of the three unifiers of Japan, the other two being Toyotomi Hideyoshi and Tokugawa Iyeyasu. He later moved to Kyoto, where with his sons, became known as Kyoto Gokaji. It seems probable that the Mishina group was favored by the Tokugawa, and they were given this title, because Umetada Myoju's and Horikawa Kunihiro's loyalties had been with the Toyotomi.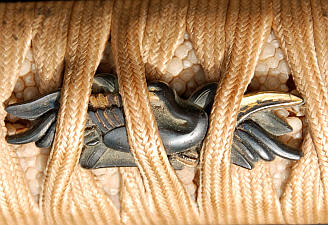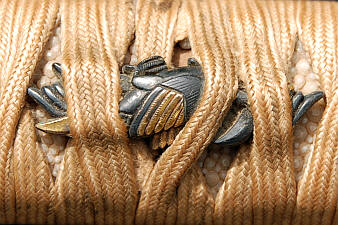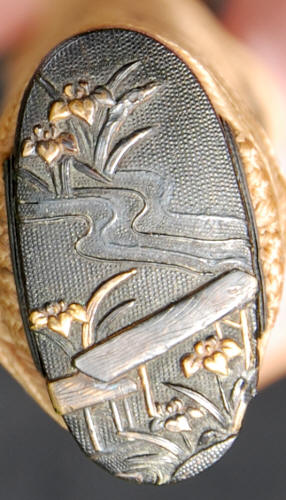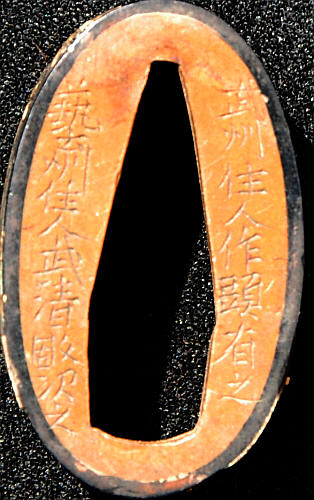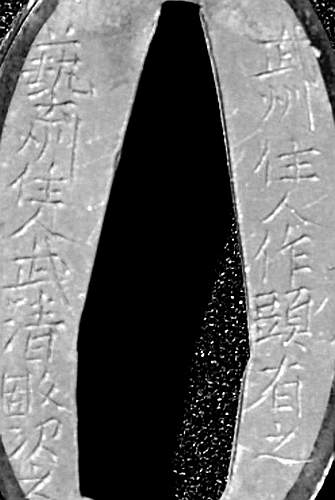 Geishu junin Takekiyo (unknown kanji) tsugu kore / Bushu junin saku kashira ari kore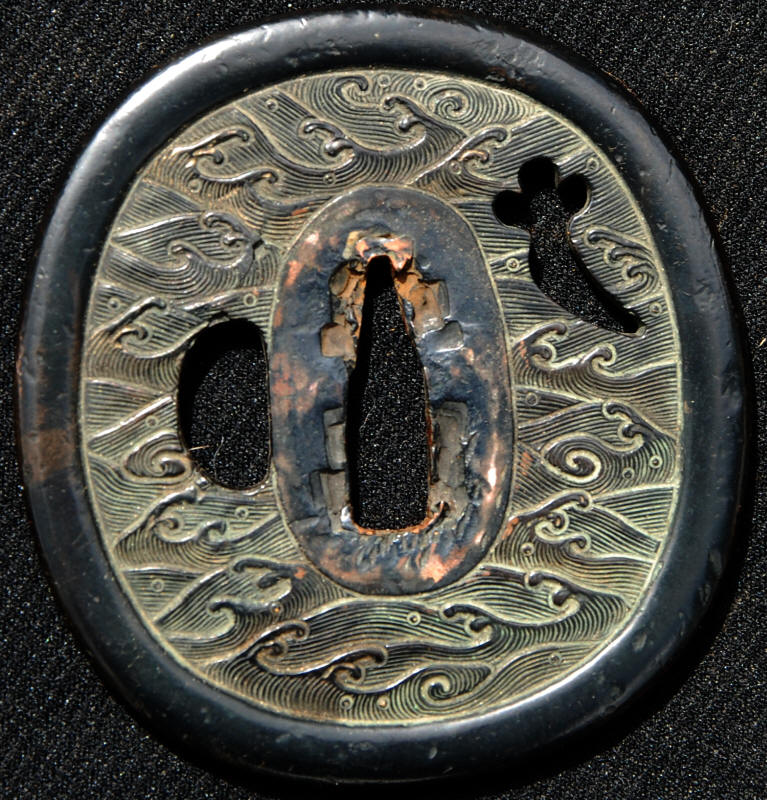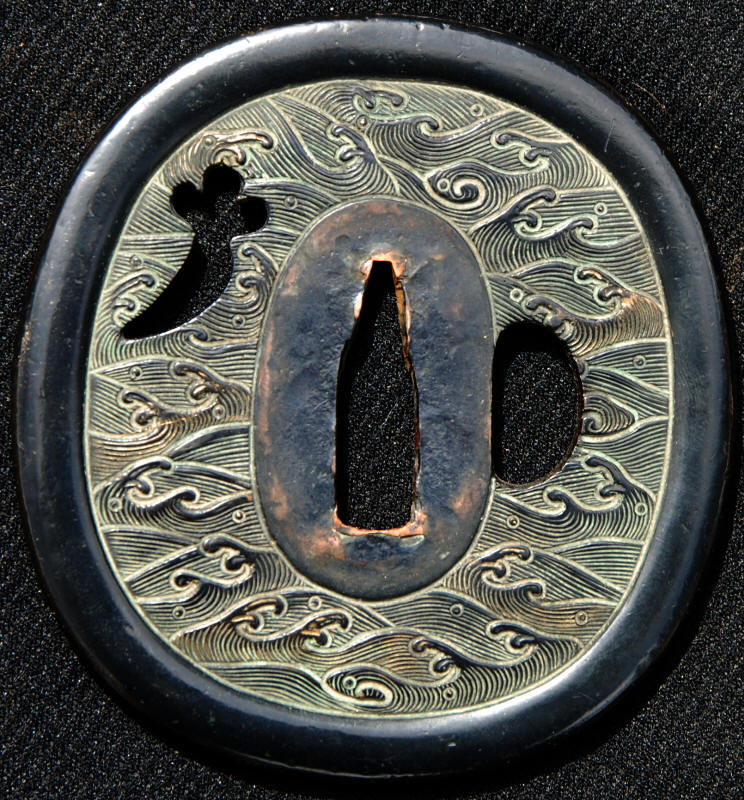 Classic Goami design. Momoyama jidai or earlier.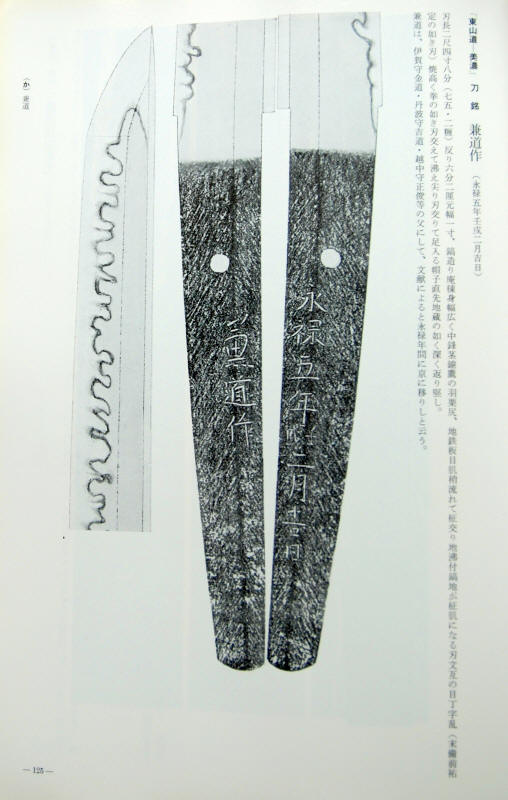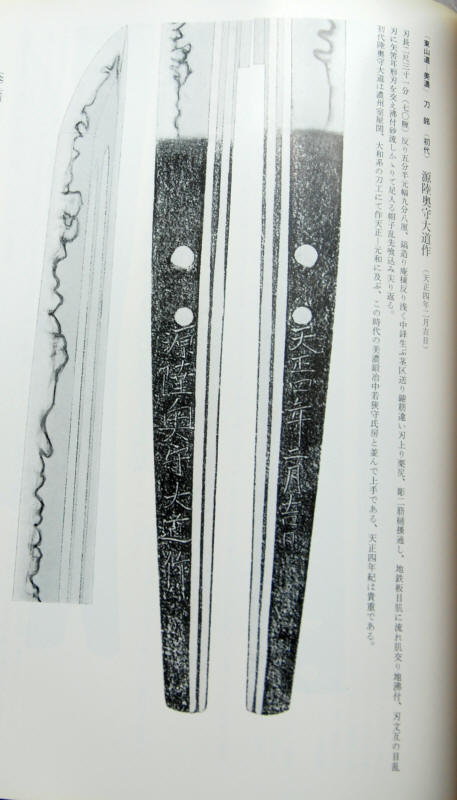 Earlier signature as Kanemichi Mature Daaido Ssgnature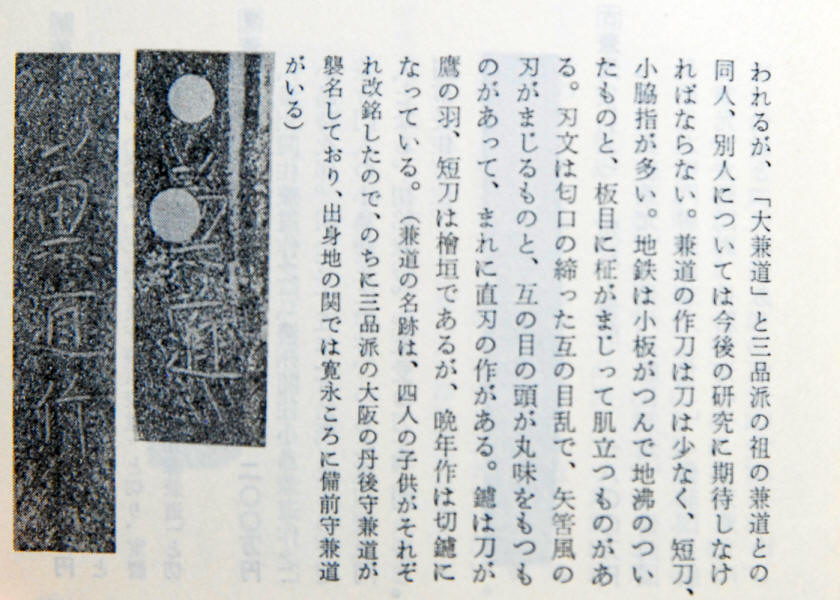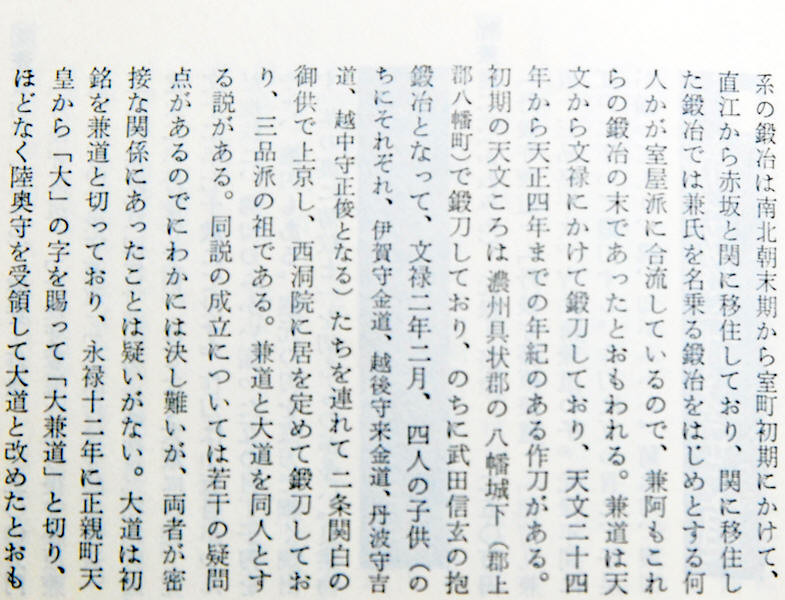 Toko Taikan gives a history of Kanemichi up through taking the name Daido