Dragon Horimono

S0500

SOLD

A massive late shinshinto mumei shinshinto katana. Shinogizukure, shallow toriizori, iroi mune, chu kissaki. Hawatare 2 shaku 5 sun 9 bu 8 rin (78.74 cm / 31"). Motohaba: 3.41 cm. Sakihaba: 2.32 cm. Kasane: 7.1 mm. The hamon is a gunome choji midare in a notare in ko nie. The boshi is hakikaki. The jigane is itame. The horimono are nicely executed male and female dragons, carved for decoration, not to disguise ware. There is no polishing ware on the horimono. As is sometimes the case in swords of this length, there was some loss of control and the tempering is somewhat uneven, as shown below.

The koshirae is a combination of new and old. The fuchi-kashira are modern, plain iron. The dragon menuki are well detailed high quality shakudo and gold. The large moku iron tsuba (9.17 cm x 8.62) has a large takazogan dragon on an ishime ground. The habaki is silver foiled over a fluted copper base. The kurikata is silver with keibori. The ribbed saya is newly made, and the black has a purple tinge.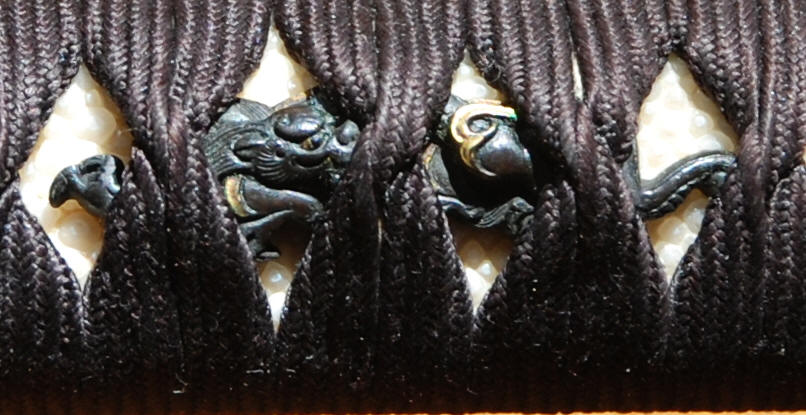 Picture on the left in sunlight, is the correct color. Picture on right is in LED light.
9.17 cm x 8.62