Heianjo Tsuba
TS0625
SOLD
A large early Heianjo chrysanthemum sukashi tsuba 8.22 cm x 8.22 cm x 4.8 mm. The color and condition could not be better. There are no missing inlay, and the brass retains its original patina. As we have all seen, so many have been over cleaned, so this is a very nice thing to find. It has never been to shinsa, but no need since it is exactly a textbook example of Momoyama/Edo Heianjo tsuba. I am tempted to ask Japanese money for this, but I would rather sell it than have a trophy. $450.
Here is a link to a very similar tsuba in Japan, for about twice the money. https://page.auctions.yahoo.co.jp/jp/auction/s623179126
Here is new information: This is an example of a guard made in Viet Nam for the Japanese, and/or European export market.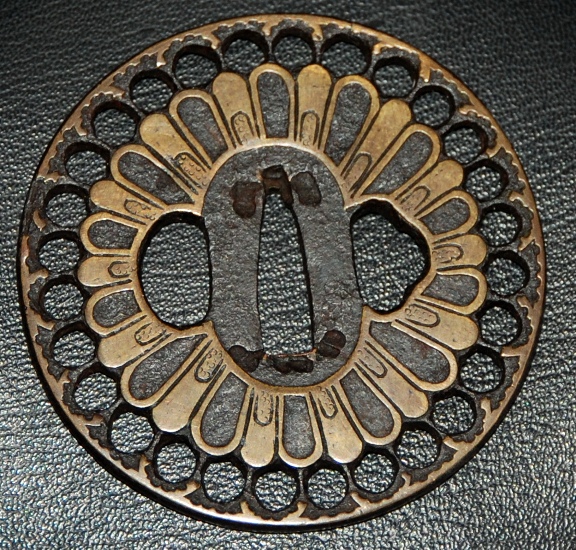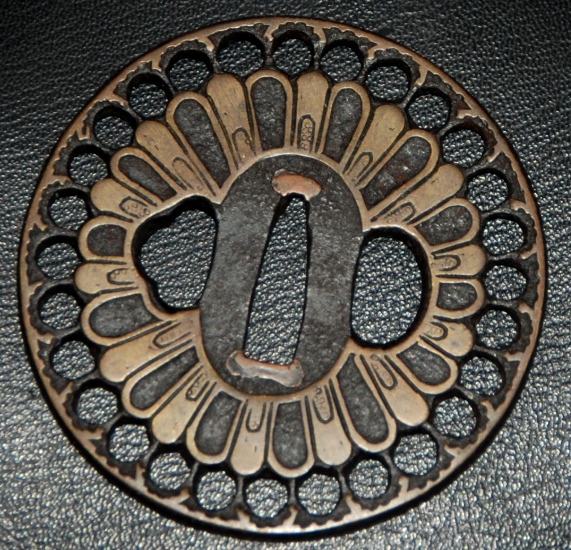 From James McElhinney:
https://www.rijksmuseum.nl/en/collection/NG-NM-6087-A
Iron Guard, similar to the one on your website, without the brass inlay. Look at the formation of the seppa-dai/ryo hitsu. Also the curious cup-shaped roundels just inside the rim, then compare to the image below of a 17th c, Vietnamese sword. There was a large Nihonmachi in Hoi An. The Dutch also subcontracted weapons and fittings from Tonkin makers.
There is a theory that the "mysterious" origins of the Heianjo-zogan technique is actually SE Asia, reasonable in light of the fact that they are unknown prior to European contact, ca 1550.
A theory about "Onin" guards suggests that they are Japanese Tosho tsuba, mounted on swords that were exported decorated abroad, where they received brass inlay, and returned to Japan via maritime trade.
<![if !vml]>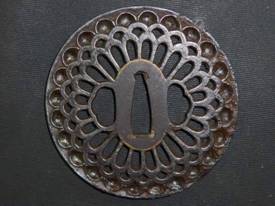 <![endif]>
<![if !vml]>

<![endif]>
<![if !vml]>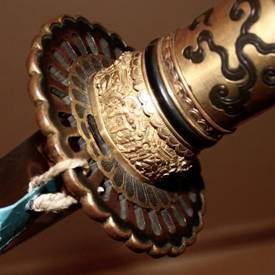 <![endif]>