Hidari Kaneyasu Katana
S0208
SOLD
Right out of the woodwork, and in a condition that I haven't seen in forty years. Normally blades are figure printed, rusted, chipped; handles torn; scabbards split and dented; and parts missing, this one is in great condition, though would benefit from a new polish.
A katana signed, Mutsu no Kami Kaneyasu. Suriage, machi okure, shinogizukure, chu kissaki, iroi mune. Hawatare: 2 shaku 2sun 5 bu 3.9 rin (68.3 cm., 26.89 inches). Motohaba: 2.98 cm. Sakihaba: 2.08 cm. Kasane: 6.7 mm. Long notare hamon, gunome ashi and yo within, tight habuchi, koichigaiba, nijuba, fine kinsuji, nado. The jigane is itame nagare, nado.
The saya is green nishiji with handachi tosogu, shakudo with a nanako finish, and gold partitions, in excellent condition. Probably a nineteenth century replacement, as saya do wear out. The moku tsuba is plain iron, with an earlier style kozuka ana and a shakudo sekigane. The habaki is copper inscribed with a mon. The tsuka is an important Edo period working samurai tsuka. Lacquered leather wrap, dragon shakudo nanako fuchi, and a wonderful ko kinko kashira of deep black shakudo, probably dating from Muromachi or Momoyama. The tsuka is worthy of being in a museum.
The first Kaneyasu was the last of the Tegai line of sword smiths, work spanning latest koto through early shinto. The jigane of the school resembles that of the Kunihiro kei. The
second generation, Hidari (left handed) Kaneyasu worked around Shoho (1644-1648). Rated Jo Saku in Fujishiro's Nihon Toko Jiten - Shinto Hen, and valued at 4,500,000 yen in Tokuno's Toko Taikan. He has a sharpness rating of Ryowazemono.
This has not been to shinsa, so it it being priced accordingly. I have illustrated several signature references below.




Suburb Edo Period Working Samurai's Tsuka - This Really Belongs in a Museum


Fuchi With Male Dragon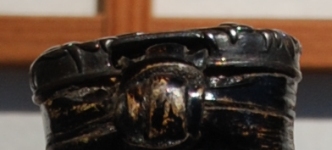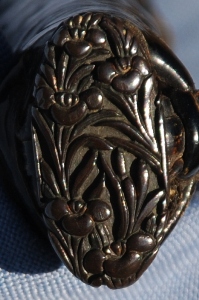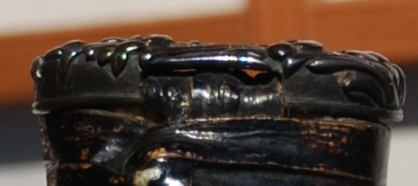 Ko Mino Kashira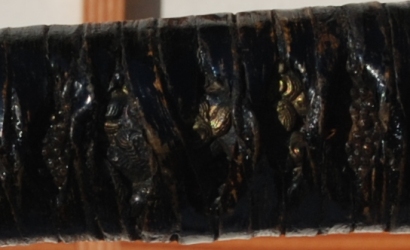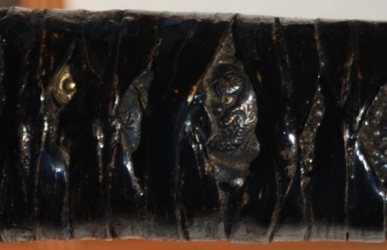 Mutsu no Kami Kaneyasu