Inoue Shinkai Wakizashi
S0399
CURRENTLY SUCK IN JAPAN AFTER SUCCESSFUL SHINSA & SAYAGAKI
An ubu wakizashi signed, Inoue Shinkai (井上眞改) and dated [Kiku mon] Kambun ju san nen hachi gatsu hi ( a day in August 1673). Shinogizukure, iroi mune, slightly extend chukissaki, torizori. Hawatare: 1 shaku 7 sun 7 bu 2 rin (53.7 cm / 21.14 inches) Motohaba: 2.84 cm. Sakihaba: 1.87 cm. Kasane: 5.3 mm. NBTHK kanteisho April 7, 1980. NBTHK Tokubetsu Hozon Reiwa ni nen roku gatsu nijugo hi (June 25, 2020). (The hamon is a suguba notare in fine konie, bright deep habuchi, getting deeper at the monouchi. Tight itame and mokume hada with chikei and fine jinie. Unlike his Kunisada signatures, when signing Shinkai, he used a narrow chisel and made more shallow cuts. The nakago has been somewhat compromised, so the signature and date do not stand out as clearly as one might wish.
Shinkai, known as the Masamune of Osaka, his works resembles that of Go Yoshihiro. He was the son of Izumi no Kami Kunisada. His original signature was Inoue Kanesada. He received the right to inscribe the imperial chrysanthemum around 1661. In 1672 the became a lay priest and took the name Shinkai. He died young at 53, in 1682.
Rated Saijosaku in Nihon Toko Jiten - Shinto-Hen, valued at 18,000,000 yen in Toko Taikan. As of 2000 there were 39 Shinkai juyo, 13 of which were wakizashi. In addition there were 87 juyo with his Kunisada signature.
It has always been my policy not to comment on other people's offerings, would that others would do so as well. Many of you may be aware of a western self-appointed expert proclaiming this to be a fake. Thus forcing me to submit shinsa, and get Tanobe sensei sayagaki. An extra year and a bit over $1,000. I won't share the identity of this authority, as those who were told about the sword being a fake know who he is, and I will not further sully his reputation for those unfamiliar with his comments.
A note from Arnold Frenzel: "--- the Latin letter prefixes B.S.g.h. used on such papers as that for your Shinkai-- I contacted Mr. Arakawa at the NBTHK as I own a similar paper to that of your Shinkai. He explained that with the breakout of the phony Tokubetsu Kicho blades in the late 70s that for a short period they began to use that Latin letter coding, B.S.g.h. for part of 1980 and 81 to indicate Museum issued." $34,000.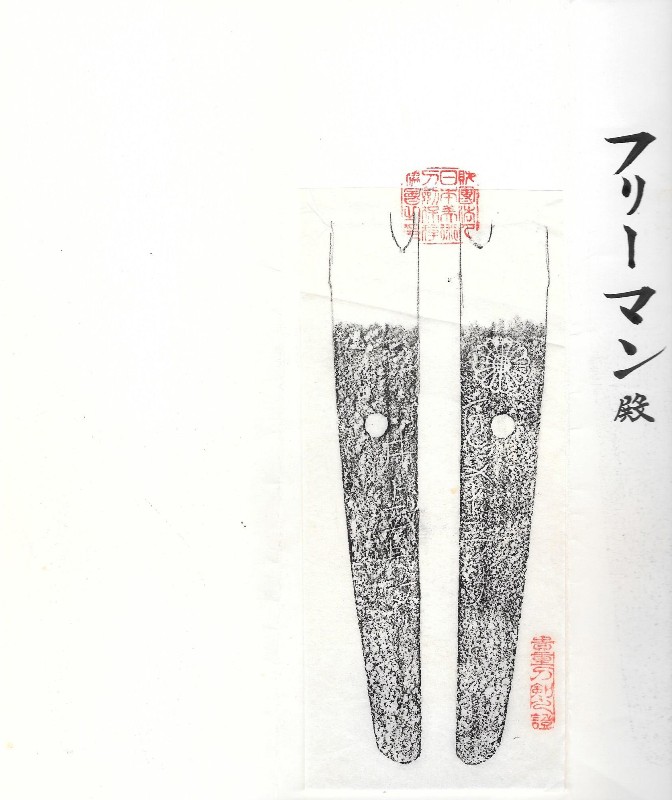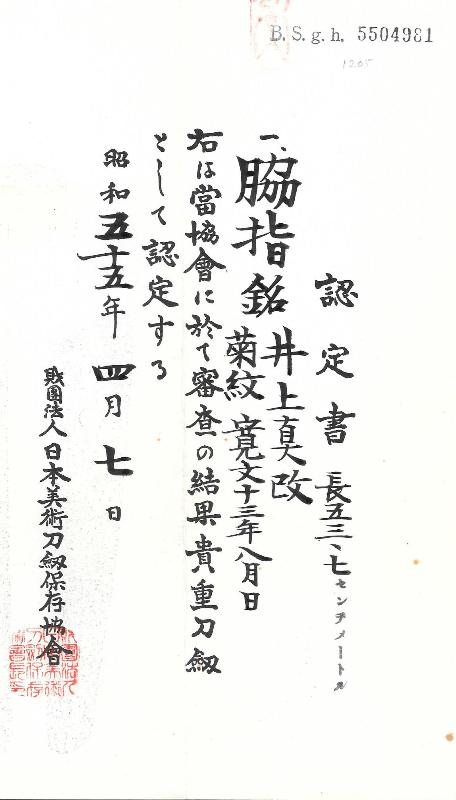 Old NBTHK Kanteisho
(turned in when new papers issued)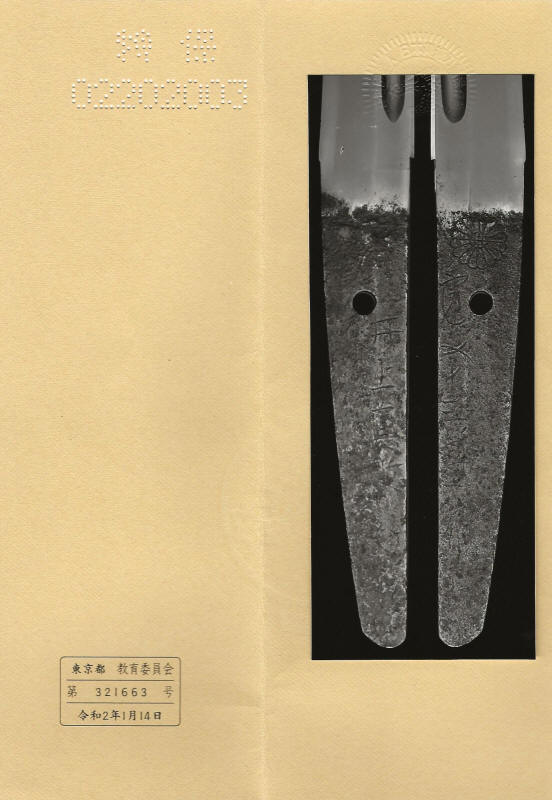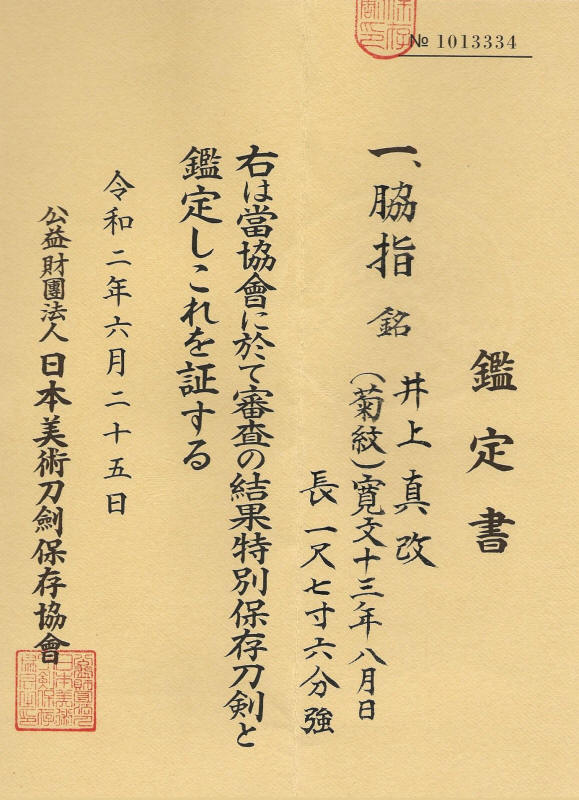 NBTHK Tokubetsu Hozon Kanteisho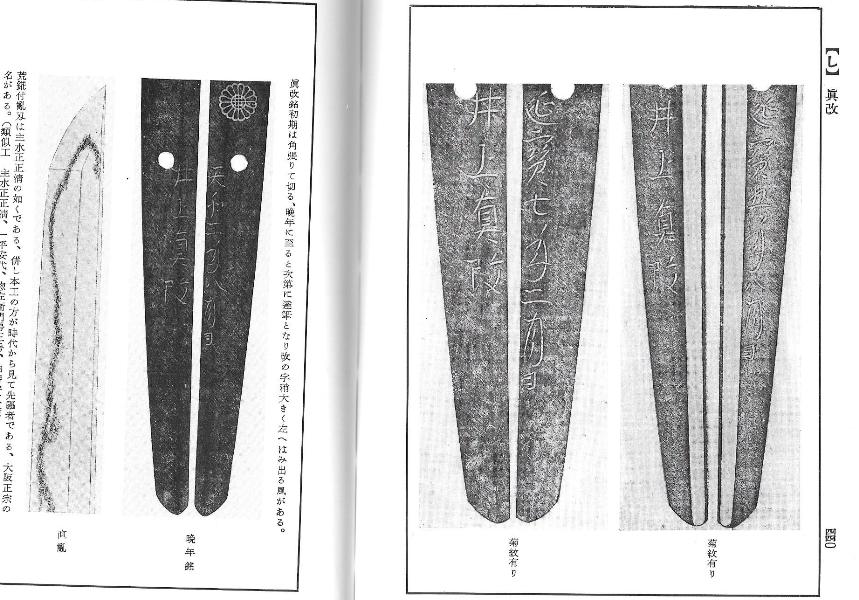 Nihon Toko Jiten - Shinto-Hen,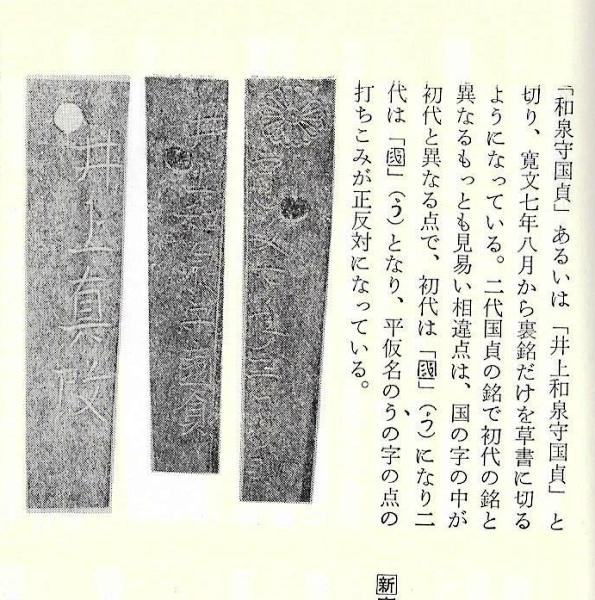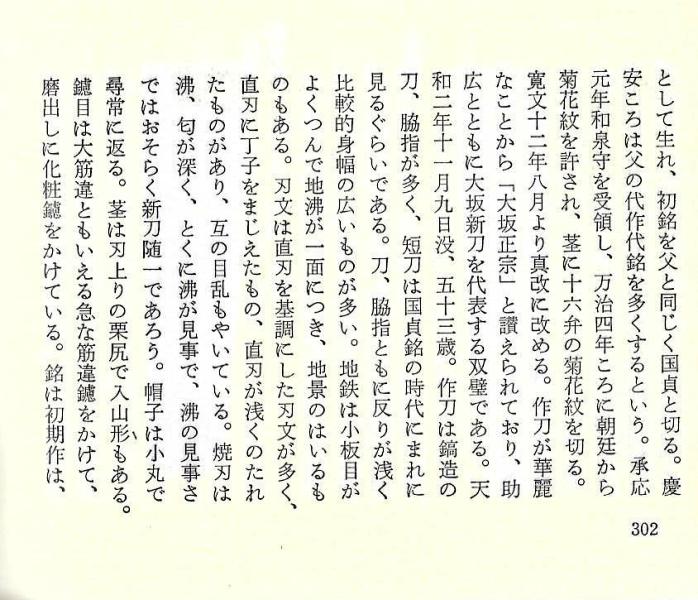 Toko Taikan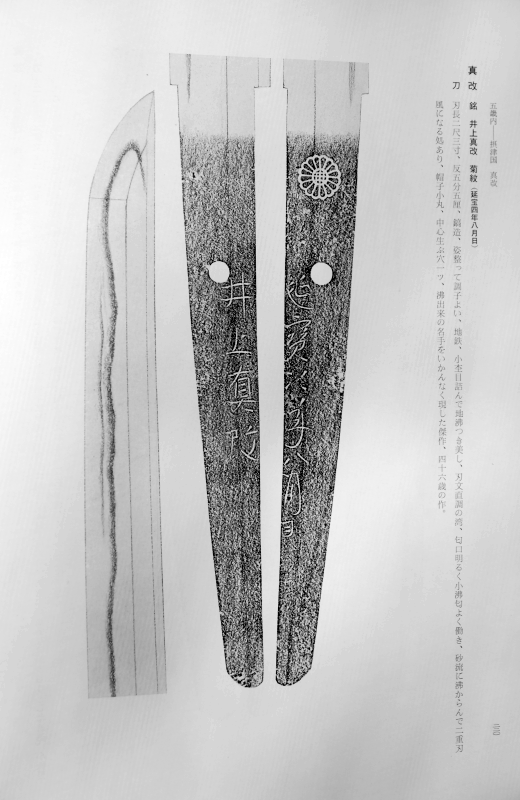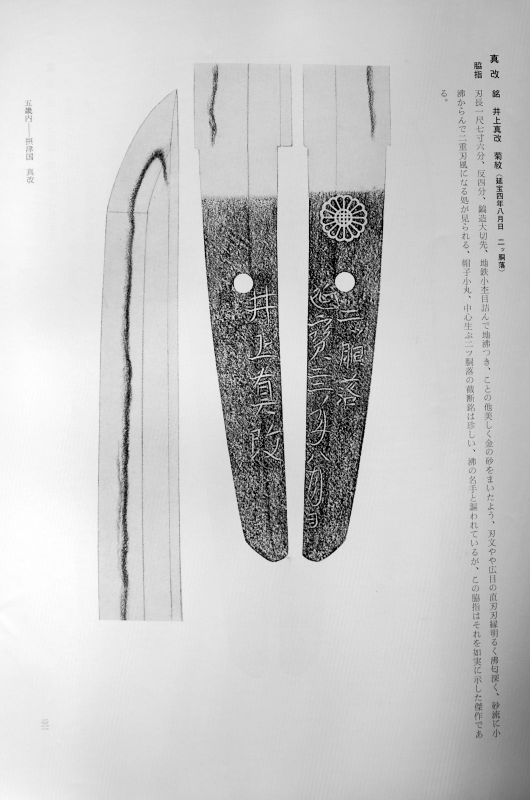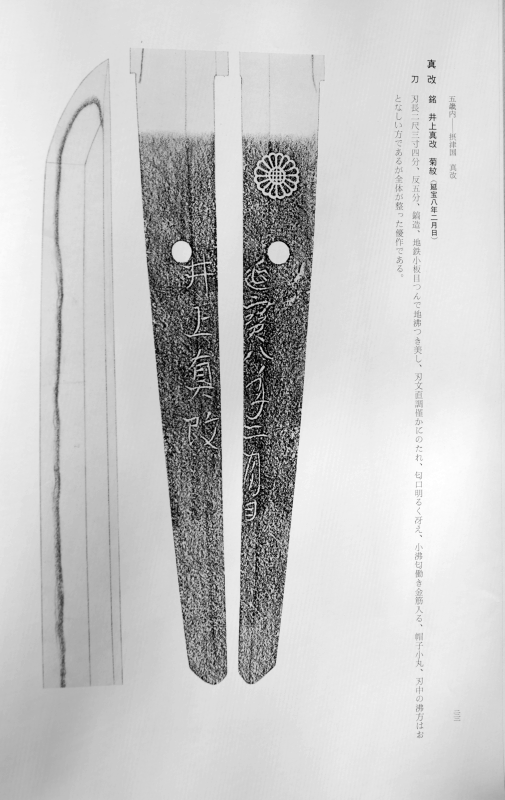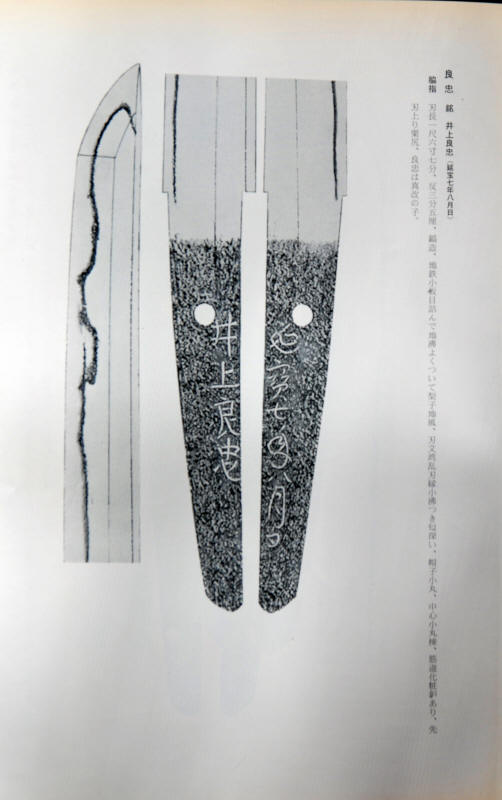 Nihonto Zuikan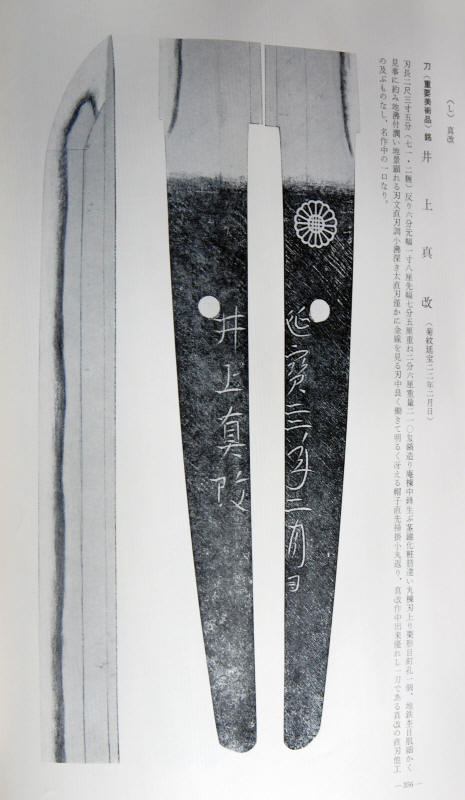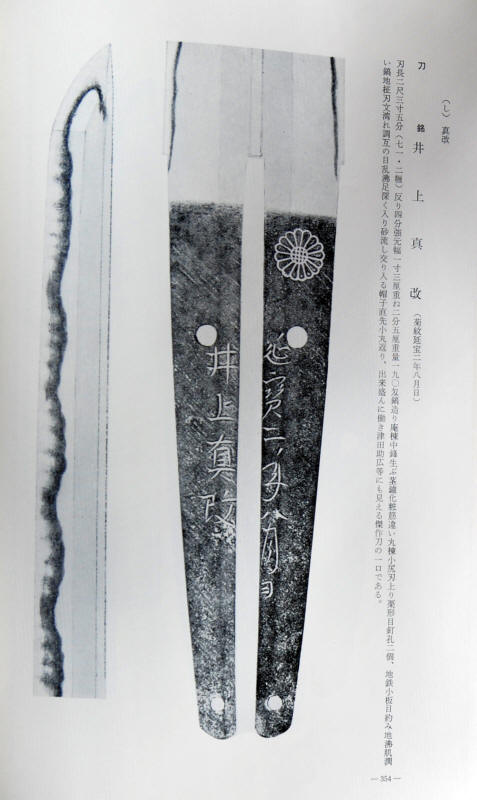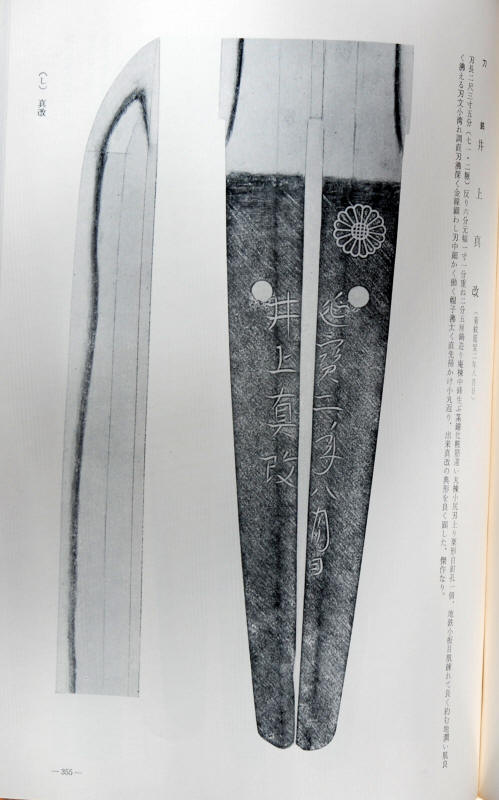 Shinto Taikan

1282