Kiyomitsu Wakizashi
S0337
HOLD
An ubu wakizashi signed nijimei, Kiyomitsu. Shinogizukure, iroi mune, sakizori, slightly extended chu kissaki. Hawatare: 1 shaku 8 sun 8 bu (56.97 cm or 22.43"). Motohaba: 2.87 cm. Sakihaba: 2.01 cm. Kasane: 6.59 mm. Nioi deki, chu suguba-ko midare, ashiiri, ko choji sprinkled through, a tight nijuba, nado. The hada is a tight itame. The polish is grayed down, so the details are difficult to see. NTHK kanteisho attributing it to Osafune Kiyomitsu of the Eiroku period (1558 - 1570).
Mounted with a recently wrapped tsuka, black tsuka ito, shakudo mon fuchi and horn kashira. The shakudo and gold menuki are armor sleeves. The tsuba hexagonal tosho, with an early style kogai ana suggesting early Muromachi or Nambokucho. Good tekotsu. Te tsuba is worth collecting for itself.
The Meikan lists seven smiths signing Kiyomitsu during the Eiroku period, ranging from run of the mill to excellent. I can rule out those pictured in Nihon Toko Jiten and Yumei Koto Taikan. A good sword for the beginning collector or or someone who doesn't what to invest heavily. $1,800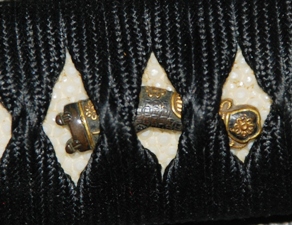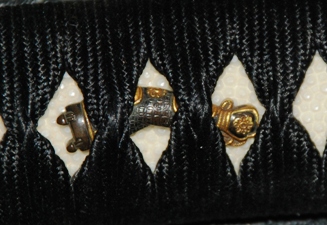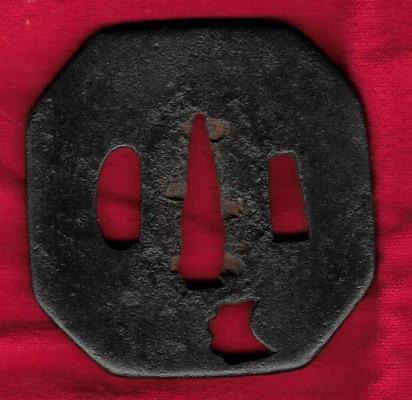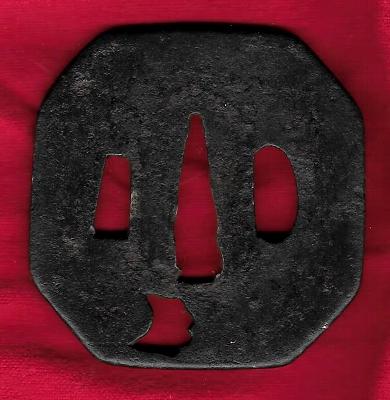 6.6.78 cm. x 6.61 cm. x 3.8 mm.