Mihara Masachika Wakizashi
S0318
SOLD
A large o-suriage wakizashi attributed to Mihara Masachika, Eisho (1504-1512) & Dai-ei jidai (1521 - 1528). Shinogizukure, iroi mune, chu-kissaki, o-suriage, two mekugiana. Hawatare: 1 shaku 8 sun 1 bu (54.98 cm / 21.65"). Motohaba: 2.18cm. Sakihaba: 2.04 cm. Kasane: 6.4 mm. Narrow chu-suguba, bright and tight habuchi. There is nijuba toward the front on the omote, and yubashiri, ko hanie, kinsuji, nado. Bright itame hada with ko nie, chikei. There is shiraki utsure, nado. The boshi is o-maru with a medium short kaeri. Rated a double circle in Nihonto Meikan; rated Chusaku in Nihon Toko Jiten - Koto Hen; Mounted in shirasaya, with niju gilt copper habaki, and NTHK kanteisho from 2014.
The accompanying koshirae has tosogu are dragon motif. The mumei fuchi-kashira are gilt dragons on shakudo nanako; the menuki are large gilt dragons. The tsuba is signed Choshu Hagi Ju Tomokiyo [Kakihan]. 1700 - 1750. He became head of the Choshu Kawaji family school in 1722. Ref. Haynes H09931.0. High quality black lacquer say, with tsuneno, and pockets for kozuka and kogai. The kozuka is a gilt dragon in deeply carved shakudo waves. The kogai is missing.
The Nihonto Meikan lists his dated works running from Eisho three (1506) through Dai-ei eight (1528). Tokono only lists four of the six generations of koto Mihara Masachika in Toko Taikan with values ranging from 2,500,000 yen to 4,000,000 yen. Fujishiro only lists two, the Dai-ei and Tenmon smiths, both rated Chusaku.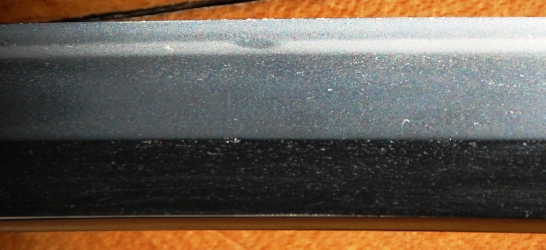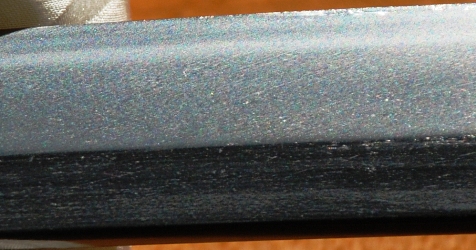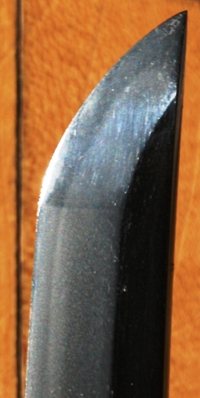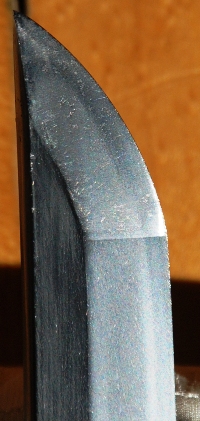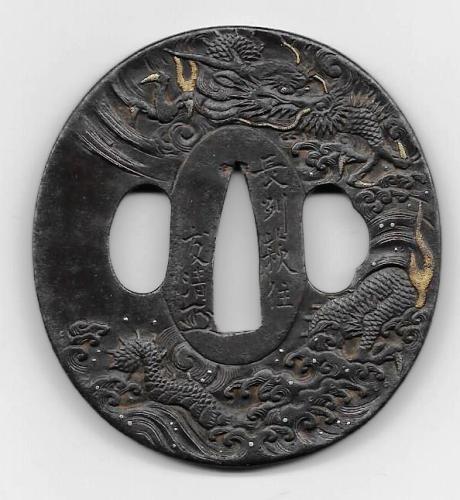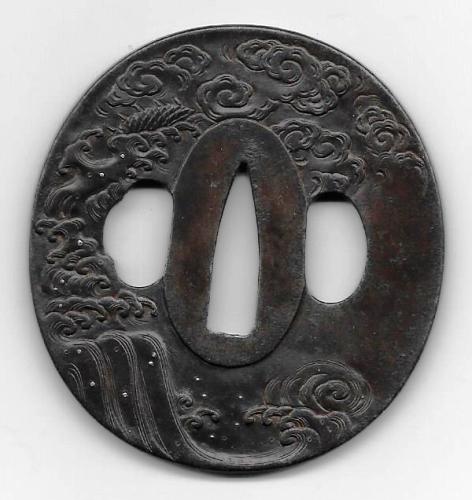 Choshu Hagi Ju Tomokiyo [Kakihan]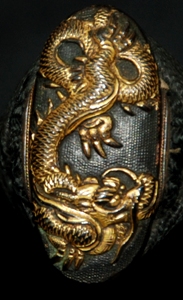 Gilt Dragons on Shakudo Nanako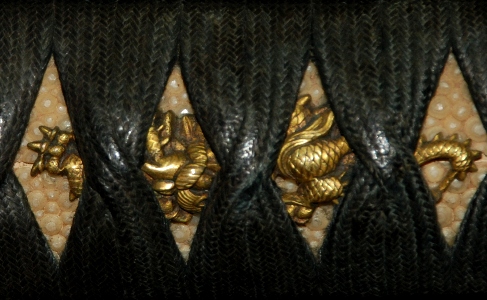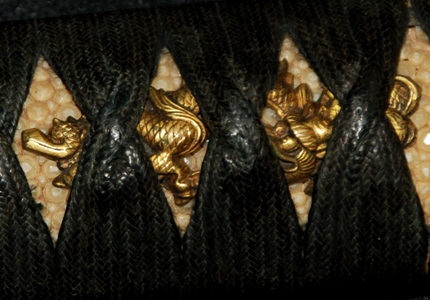 Detailed Gilt Dragons


Deeply Carved Shakudo Plate with Detailed Gilt Dragon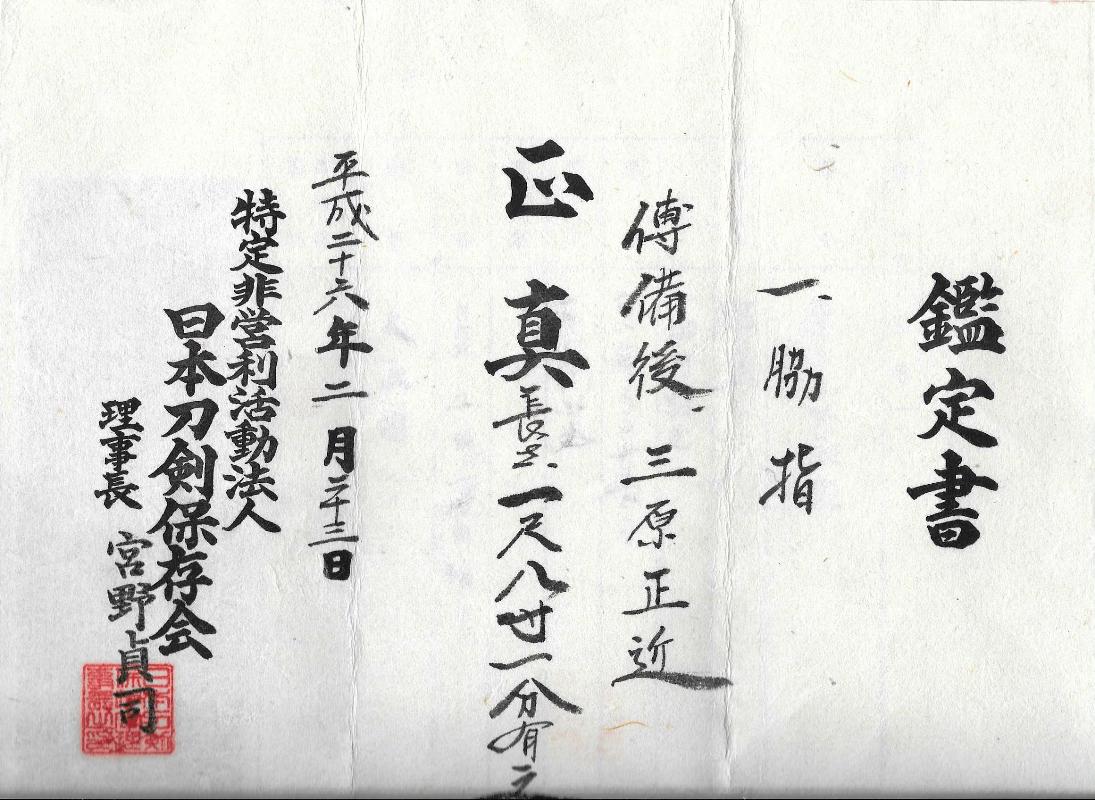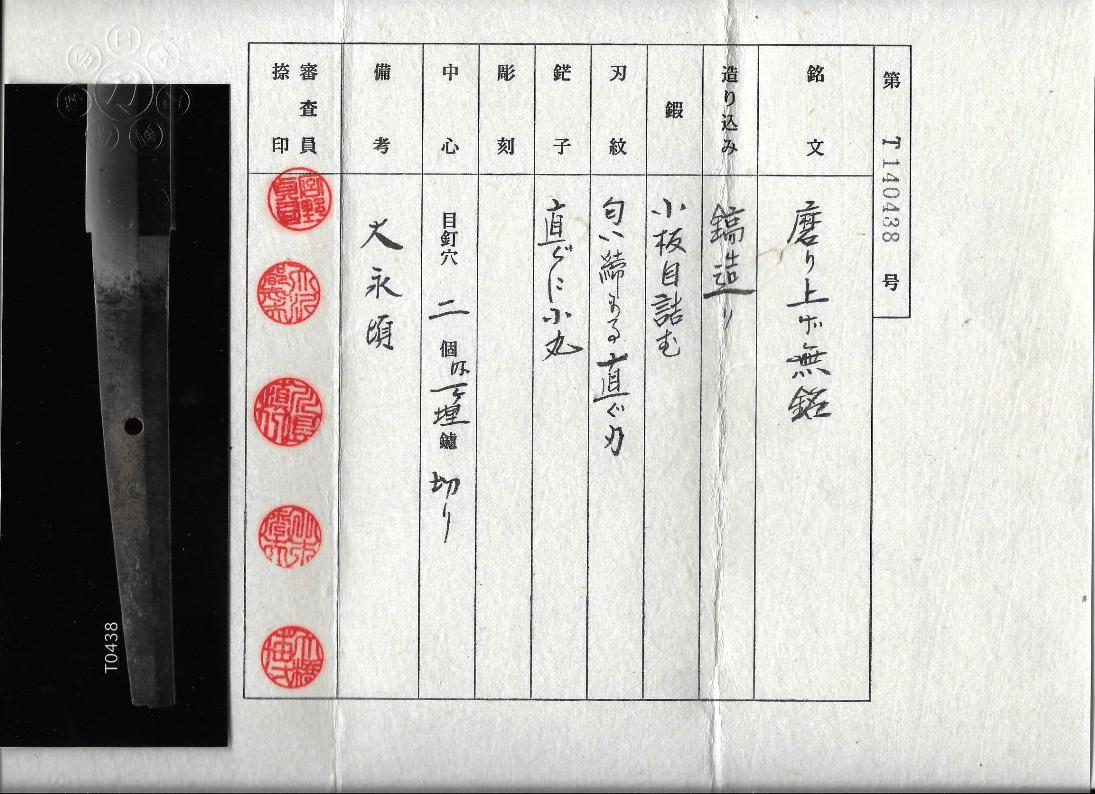 NTHK Kanteisho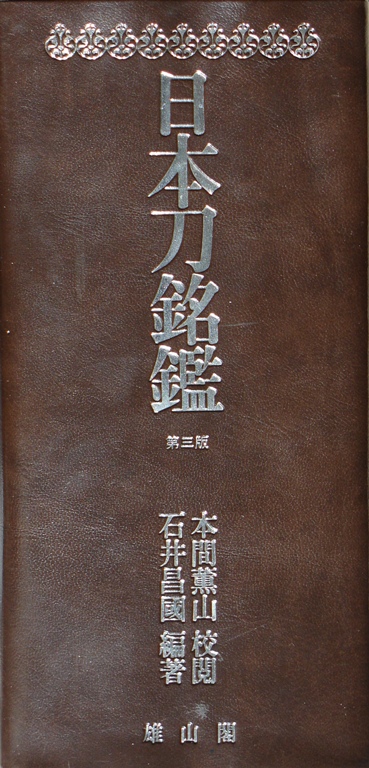 Nihonto Meikan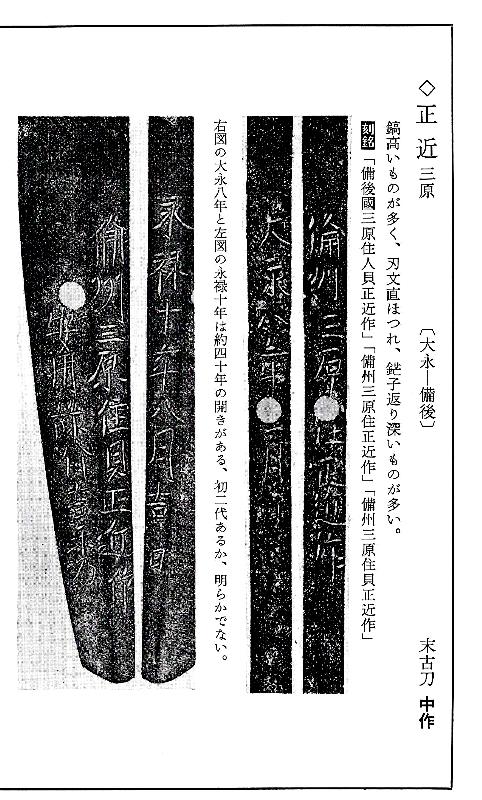 Nihon Toko Jiten - Shinto-Hen