Mino KanemitsuWakizashi
S0360
With a change of ownership, I am able list this at a reduced price;
An ubu wakizashi, with one mekugiana, signed Choshu ju Kanemitsu in handachi koshirae. Shinogizukure, iroi mune, chukissaki, bo hi. Hawatare: 1 shaku 8 sun 5 bu 9 rin (56.36 cm / 22.188"). Motohaba: 2.94 cm. Sakihaba: 2.06 cm. Kasane: 6.5 mm. Pronounced gunome notare ko-midare, nie deki, kinsuji, sunagashi, nado. Itame nagare hada, nado.
Hadachi koshirae. Blue tsuka ito, iron fuchi -kabutogane, semegane, ishizuke, nado, iron with gold. The long menuki are copper and shakudo. The plain iron tsuba signed, Kunihiro. The lacquer is paper thin.
There is a negligible silvered kozuka.
There is only one Mino Kanemitsu who signed Choshu ju, He worked in Temmon (1532 - 1555), and was of the line of Kanemoto. This has not been submitted to shinsa. $3,100







Choshu Ju Kanemitsu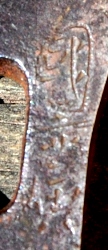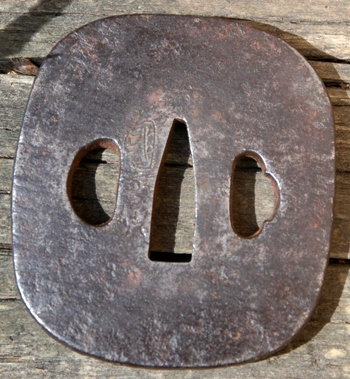 3192