Pastoral Scene Tsuba
TS0444
SOLD
WARNING: THIS GUY CONTACTED ME FROM THE PHILIPPINES TO BUY THIS TSUBA, HE ASKED THAT I CHARGE HIS CREDIT CARD FOR SOME PURCHASE IN CHINA. THEY ONLY ACCEPT WESTERN UNION, AND THAT IS A 400 MILE DRIVE FOR HIM. I DID A CODE 10 CHECK ON HIS CARD AND BOTH NAME AND ADDRESS ARE FRAUDULENT.
Here is the credit card details to charge for the total of $2395

Name on Card --Eric Anderson
Card Type -- MasterCard
Card Exp Date -- 09/13
Card Number-- xxxxxxxxxx3539
3 Security code--683
Billing Zip Code
45036
A large nineteenth century tsuba of a pastoral scene in takazogan and intaglio. Some takazogan copper highlights, of a man and a flowering tree. 8.53 cm x 7.9 cm x 3.9 mm at the mimi. A very nice design, not made from sand iron. This is a late good honest tsuba best suited for the beginning collector, display sword, or for mounting on an iaito. The tsuba appears to have a coat of varnish on it, which is easily removed with paint remover.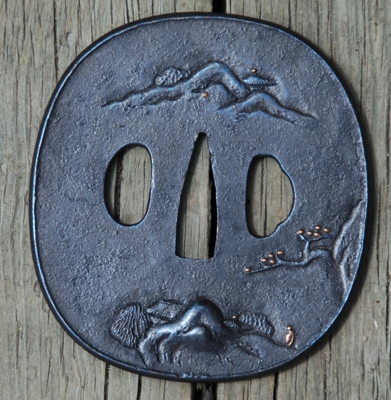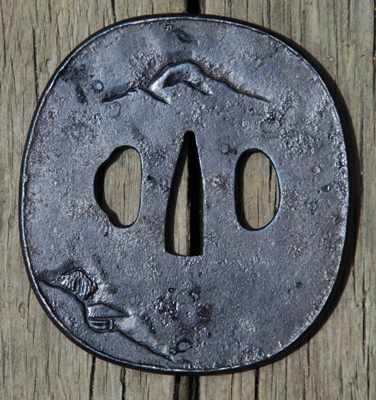 466