Suishinshi Masahide Katana
S0362
HOLD
An ubu shinshinto katana, signed, Suishinshi Masahide [kakihan]. Shinogizukure, iroi mune, chukissaki. Horimono of Dragon chasing a tomoe, and Hawatare: 2 shaku 2 sun 5 bu 3 rin (68.26 cm /26.875"). Motohaba: 3.13 cm. Sakihaba: 2.25 cm. Kasane: 6.6 mm. Pronounced gunome notare ko-midare, nioi deki, nado. Itame nagare hada, nado. In decent older polish.
Mounted in early WWII shingunto, with lacquered wood scabbard. Some chipping.
I believe that this is likely a Suishinshi school blade, but not by Masahide. The signature is almost close enough for a later generation. But then, almost making an 18 foot leap over a 20 foot chasm isn't even close to good enough.
$1,800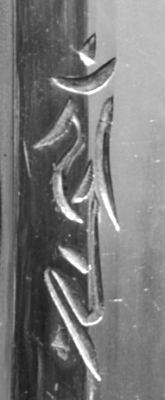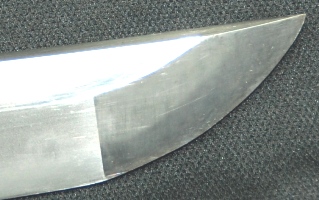 `