Suketoshi Tanto
S0279
SOLD
An ubu kumariotoshi yoroidoshi signed sanjimei, Suketoshi saku. Hawatare: 6 sun 7 bu (20.3 cm / 7.99"). Motohaba: 2.23 cm. Kasane: 7.7 mm. Suguba komidare. A slightly nibbled appearance, not developing into choji or ashi iri. Ha nie and kinsuji, nado. The jigane is a moist itame nagare with fine jinie and chikei. The boshi is reminiscent of Sa. In new polish, shirasaya, with a gilt copper habaki. NBTHK Hozon kanteisho, January 31, 214.
According to the Nihonto Meikan, Chikugo Suketoshi worked around Keio (1865 - 1868). He can be found in Token Bijitsu, 1949; Toko Shokan, 1932; and Nihon Toko Jiten, 1937.
This piece is a bit camera shy, and in many times better in hand than the pictures would indicate. $1,250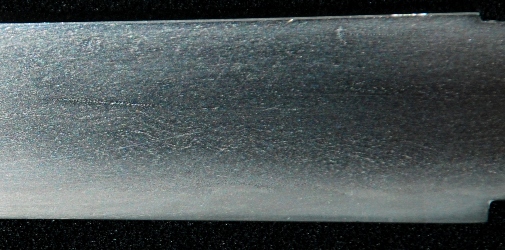 Moist itame mixed with masame, chikei.

Sa boshi, ha nie & chikei