Bungo Kuniyuki Sword Cane
S0330
Sold
A sword cane holding a katana attributed to Bungo Takada Kuniyuki, around Kambun (1661 - 1673). O-suriage, kinzoganmei "Inazuma" (lightening, or purple lightening). Hawatare: 2 shaku 2 sun 7 bu (68.785 cm / 27.08"). Motohaba: 2.24 cm. Sakihaba: 1.32 cm. Kasane: 6.9 mm. The hamon is gunome midare, ashi iri, kinsuji, slight sunagashi, nado. The jigane is itame nagare with considerable chikei. The boshi is hakikaki. NTHK certificate. Rated Chusaku in Fujishiro's Nihon Toko Jiten - Shinto Hen, valued at 2,000,000 yen in Tokuno's Toko Taikan. He has a sharpness rating of Wazamono. In need of a good polish.
Bungo Yamato Daijo Fujiwara Kuniyuki also signed Bungo Yamato no Kami Fujiwara Kuniyuki. His work resembles Teruyuki of the same mon.
Mounted in a black lacquered of a bamboo pattern. The over sized silver foil habaki has bamboo design instead of the more common nekogaki. There is a silver tip, resembling a sewing thimble at the end. Mint condition.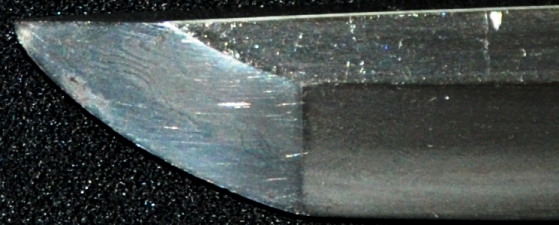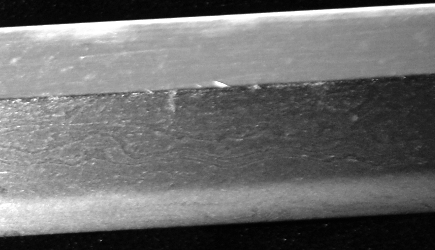 Hakikaki Boshi Chikei

Chikei


Kinzoganmei "Inazuma"
Elongated Silver Foils Habaki With Bamboo Design.

Tate Ware Near The Habaki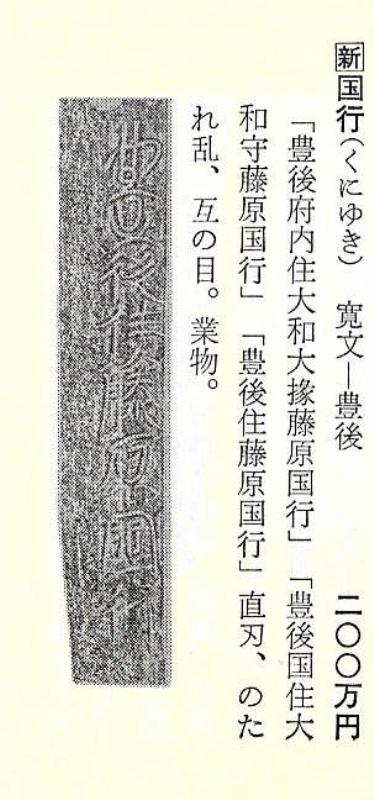 Toko Taikan - 2,000,000 yen & Wazamono


Nihon Toko Jiten - Shinto Hen Chu saku & Wazamono