Yamato Ken Meiji Mounts
S0477
OFF THE MARKET
An o-suriage koto Yamato ken in interesting Meiji period koshirae. Hawatare: 5 sun 7 bu 2 rin (17.3 cm / 6.82) Mihaba: 2.34 cm Kasane: 6.2 mm. An irregular suguba-ko-midare with an area of gunome togare midare n ko nie. There is a very rich and bright habuchi, there are very bright kinsuji. The polish is heavy keisho, because hamon runs down to the edge back at the machi on one side, appearing to end in ito suguba, or perhaps runs off the edge. Due to the location, this is not a fatal flaw. The jigane is itame nagare with masame in the edge, packed with ko-nie. This deserves a proper polish to bring out its beauty.
The sentoku koshirae are an amalgam of of Japanese and western influence. The saya is pretty stanard Japanese taste with a dragon in katakiri bori and kei bori, however instead of a kurikata, there is a western style hook that would fin into a leather frog. The tsuba was replaced with a western style S shaped bar guard, and the kashira/kabuto gane, is something I would expect to see in Chinese or SE Asian mounts. There are a few small dents as shown. This very interesting koshirae is probably unique.
A good collectable for those collecting swords, as well as those interested in Meiji period transitional koshirae.


l l the hamon drops here

Long kinsuji in masame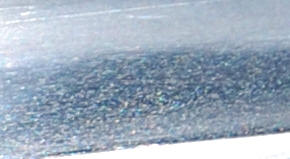 ltame packed with ko nie

Unusual marriage of east and west

468