Osafune Shigezane Naginatanaoshi Katana
S0252
SOLD
A Naginatanaoshi katana attributed to Bizen Osafune Shigezane, a rare example showing the influence of his time as a deshi of Sadamune. Hawatare: 2 shaku 1 sun 2 bu (64.24 cm / 25.29"). Motohaba 2.95 cm. Kasane: at mune: 1.5 mm. at shinogi: 6.6 mm. Gunome, choji, saka choji, midare, ashi iri, ha nie, sunagashi, kinsuji, nijuba, koichigaiba, tobiyaki, nado. Hadatatsu, itame, o-mokume, nagare, chikei, midare utsure, nado. Mounted in restored vintage shirasaya, with Tanobe Sensei sayagaki. NBTHK Tokubetsu Hozon.
Shigezane has a sharpness rating of Ryowazamono. Valued at 9,000,000 yen in Toko Taikan by Tokuno; Rated Josaku in Fujishiro's Nihon Toko Jiten - Koto Hen; illustrated in Yumei Koto Taikan and Nihonto Zuikan, double circle in Nihonto Meikan. The sayagaki notes that the sword dates to middle Nambokucho
Shigezane's production spanned the years from Karyaku (1326 - 1329) to Embun (1356 - 1361). Shigezane was the son of Morishige; the younger brother of Motoshige; and a student of Kagemitsu. It is said that he later went on to study with Sadamune. However, according to Fujishiro, his works resemble those of Motoshige and Chikakage, and have no relation to Soshu. So this sword is somewhat of a rarity, showing a strong affinity to Soshu-den, and offering validation to his connection with Sadamune.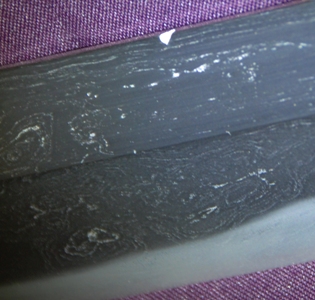 Kirikomi