Soshu Ju Iyehiro Itomaki Tachi
KK0524
$8,000
$8,000An ubu wkatana sSigned, Soshu ju Iyehiro saku. Shinogizukure, ubu, machi okure, futatsubi, iroi mune, chu kissaki. Hawatare: 2 shaku 3 sun 4 bu (70.91 cm or 27.21") . Motohaba: 2.752 cm. Sakihaba: 1.767 cm, Kasane: 46.9 mm The hamon is wwell regulated hoso suguba in konie deki, brigt tight habuchi. Itame hada packed with konie. There is a boutsure. The boshi is suguba, komaru 5 bu kaeri. NTHK/NPO kanteisho rating of 76 points.
The koshirae is Early to mid Edo itomaki tachi, but not the sort of gaudy koshirae to be worn at court. Black same tsuka with iron fuchi and kabutogane. The sarute are missing. Large well detailed deep black shakudo menuki of a dragon wrapped around a vajra hilted ken. The mekugiis fitted with shakudo rings, The finely striated tan lacquer saya is fitted with iron koiguchi, ishizuke, three ashi ai (hangers), and semegane. The sayamaki is leather. The large ishime tsuba with large kanji in iron zogan finished with gold and silver nunome 8.4 cm x 7.95 cm x 5.17 mm. Old hand woven sageo.
Oda Iyehiro, the son of Soshu Tsunahiro, was active around Eitoku (1558-1570). $10,500
with iron zogan kanji, finished with gold and silver nunome.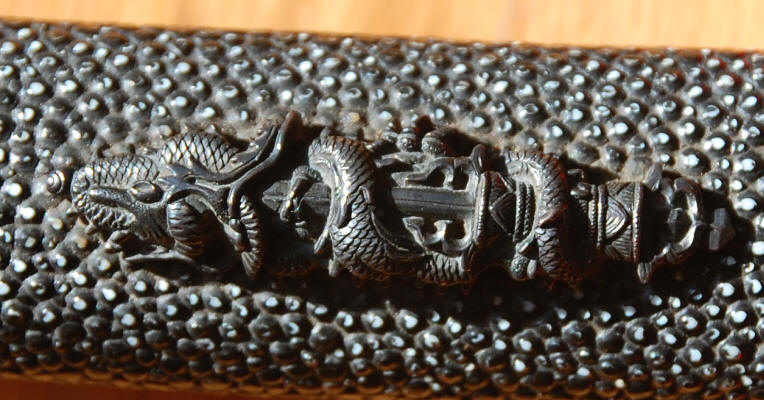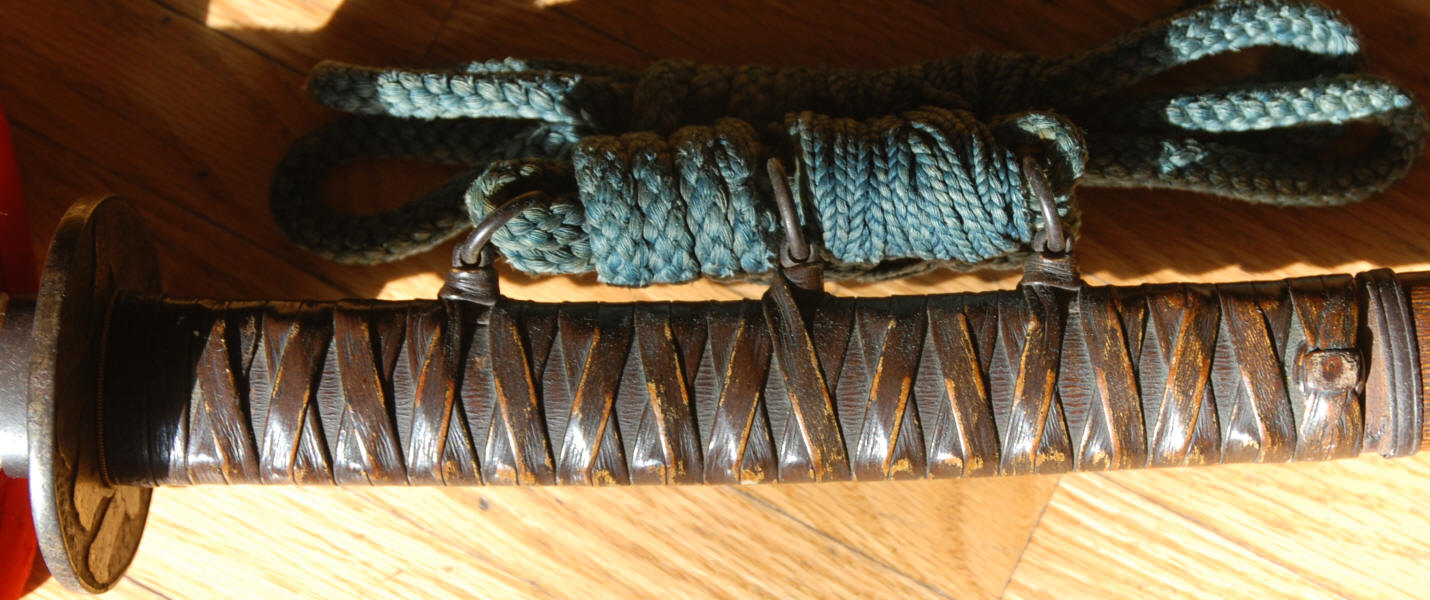 Textured iron semegane and kojiiri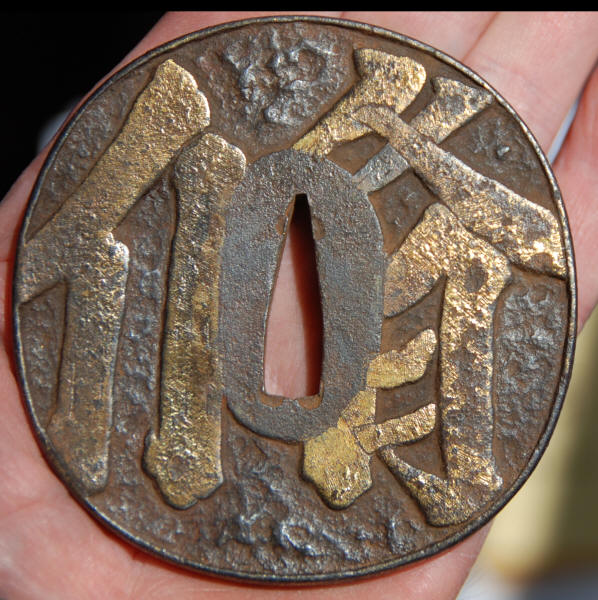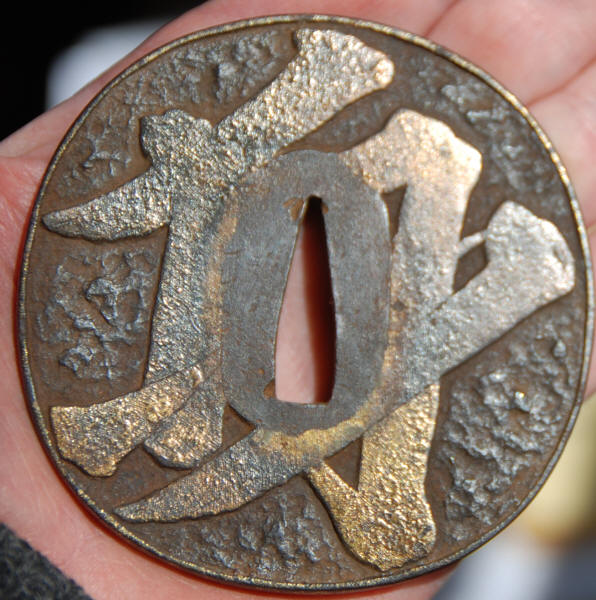 8.4 cm x 7.95 cm x 5.17 mm.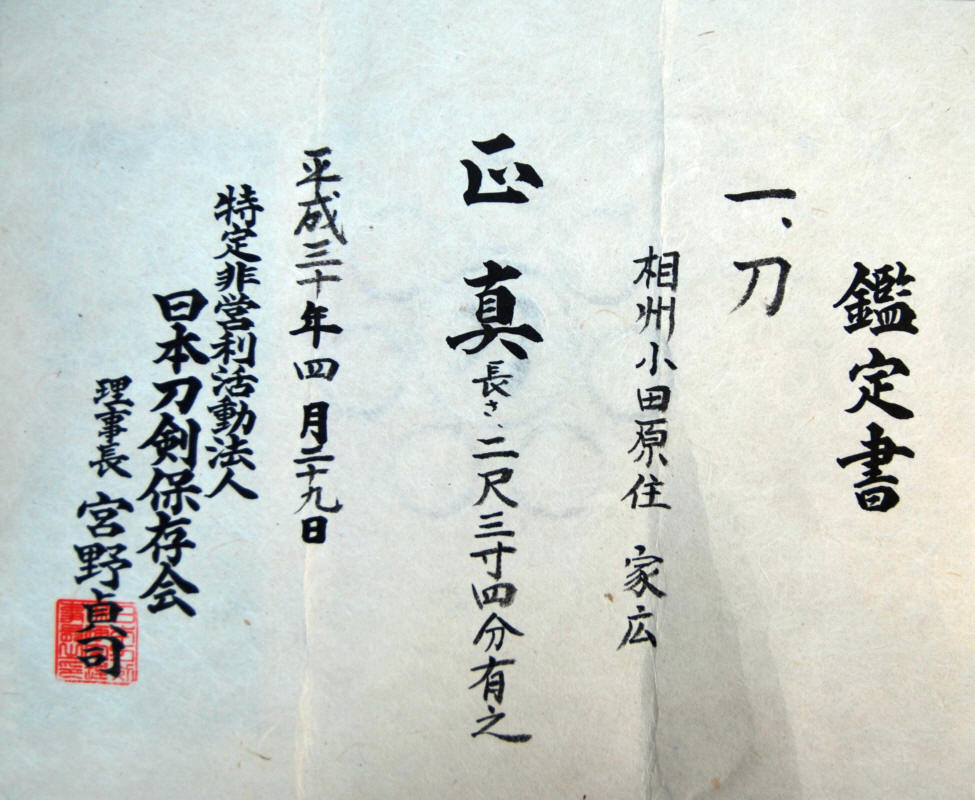 NTHK/NPO Kanteisho